Mortar mixer: functions and uses
The world of construction machinery has had another step through the production of concrete mixers of various capacities and characteristics, and has moved on to the production of smaller and more practical machines: mortar mixers.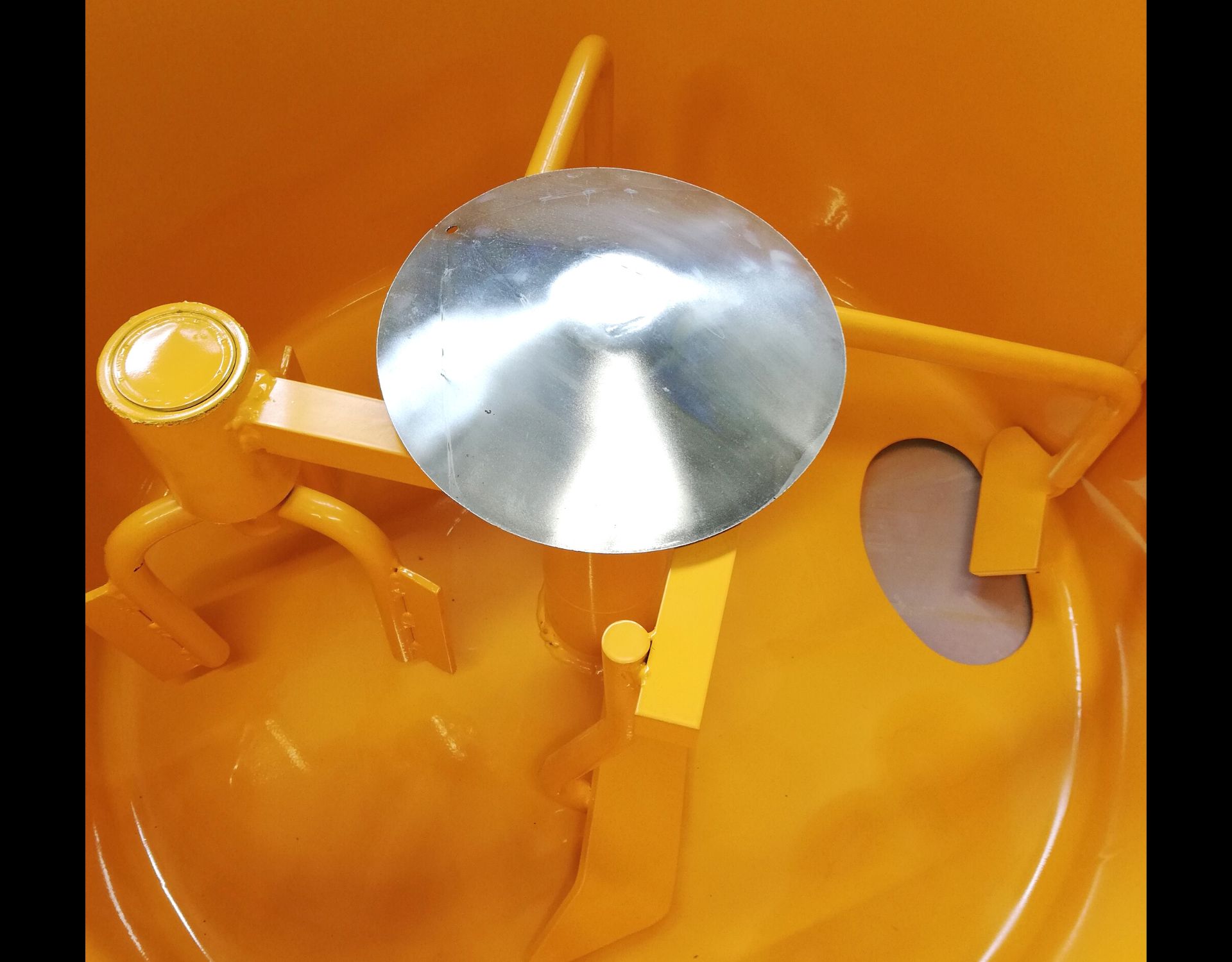 Mortar mixer's characteristics and uses
In the world of construction equipment, mortar mixers are machines that are used for mixing traditional or premixed materials ready to be used.
Mortar mixer: characteristics
This machine has had significant developments and innovations over time, which have led to improving its efficiency and uses. Among these, we can see how today it has come to be composed of a tank in which blades are positioned inside for mixing the materials in the shape of a star. In fact, it has been seen how this particular type of blade position can improve the mixing of materials ready for use inside the tank and reduce time of work, and therefore the energy consumption.
The blades are hooked to the bottom of the tank and are supported by a vertical axis, which allows them to slide up and down according to processing needs. However, these have acquired another important function over time: in fact, thanks to a particular lamination they are equipped with, they are able to clean the tank after use, scraping away the residues of product left inside, once the previous processing cycle is finished.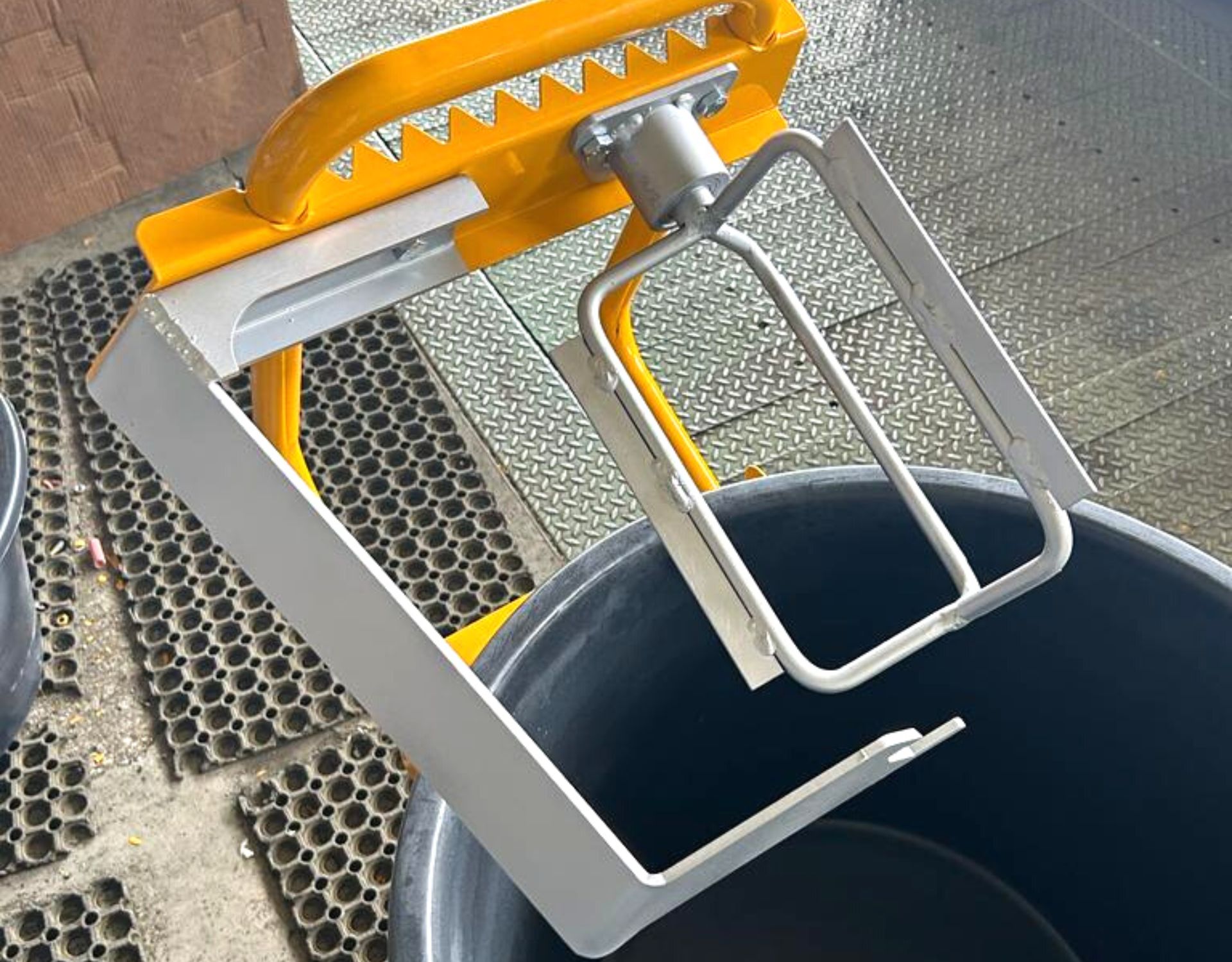 How to correctly use a mortar mixer?
Mortar mixers are different form eachother according to the materials that are most suitable to mix. In general, the material is inserted by the operator from above into the tank, and then is amalgamated uniformly with the water as indicated on the pre-mixed bag. After mixing the compound, it is usually collected on the bottom of the mixer tank at the end of processing, and thanks to a central hole it is ready to be used.
As we said, each mortar mixer is more suitable for containing particular types of materials rather than others. Nowadays, this construction machine has acquired various functions, dictated by the need to process various types of premix bags on the market. In this sense, construction has evolved considerably, and we see how mortar mixers are called upon to work for example screeds, plasters, concrete, but also glue for floors or more fluid materials. We also move from traditional pre-mixed materials to more technical ones.
Different types of mortar mixers (cement, screeds, mortars, plasters)
Let's see together what are the different types of mortar mixers that can help us clarify the actual use of the machines. First of all, these machines differ from eachother by the rotation given to the components: in most of the models we have the blades that rotate with the tank remaining in a static position, in some cases we find instead the tank itself that rotates with the blades that remain stationary. There are also other differences between the various types of mortar mixers which, together with the different materials processed as described above, can be summarized in 3 main differences:
- capacity of the tank to contain certain quantities (and therefore the size);
- engine power;
- types of material that can be mixed.
Over time, Omaer has come to projected a line of products specifically for these machines (the Mixers Line), to meet the market needs.
To date, there are 6 models in this line which, as we said before, also have different characteristics based on size, motor power and workable materials:
- Concrete pan mixer 40 lt - C 60: ideal for glue for floor, but also for technical materials such as fine mortars and plasters as well as fluid materials thanks to special blades (supplied on request), with small quantities per cycle;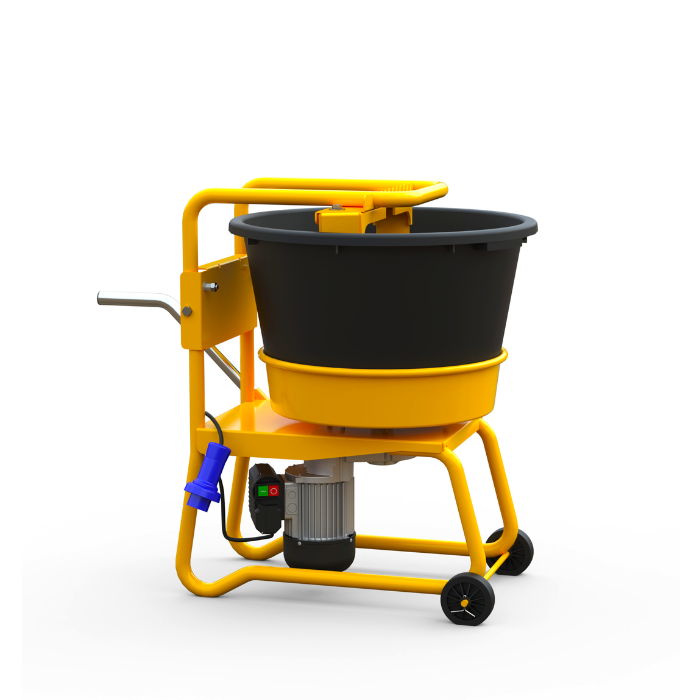 - Concrete pan mixer 70 lt - C 120: for traditional or premixed materials such as mortars, cement, screeds and plasters, and for technical ones;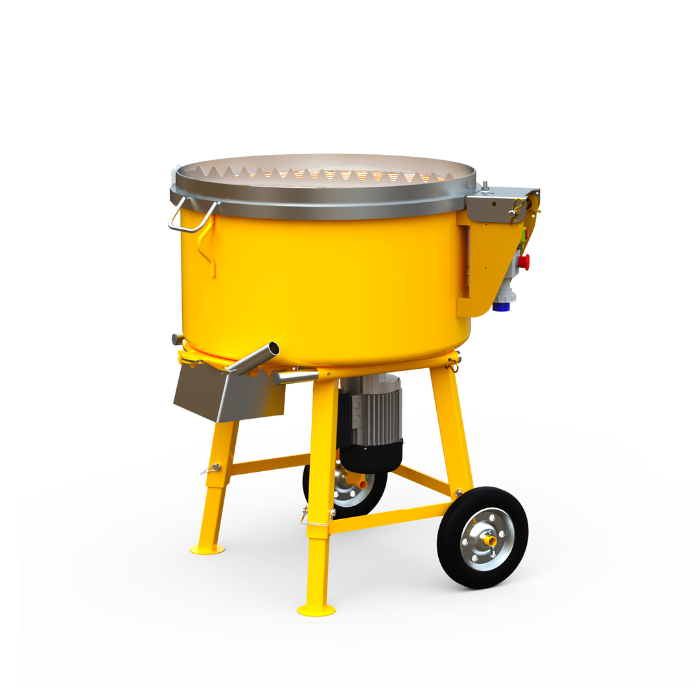 - Concete pan mixer 70 lt - C 120 XT: suitable for more structured and difficult materials, both traditional and premixed, thanks to a gearmotor with higher power;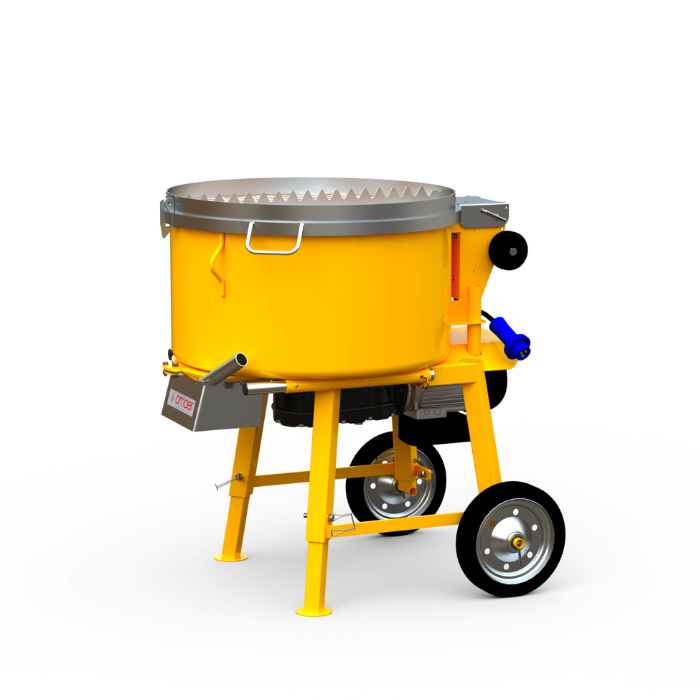 - Concrete pan mixer 150 lt - C 240: has the same applications as the C 120 XT model, but with the possibility of processing larger quantities per cycle.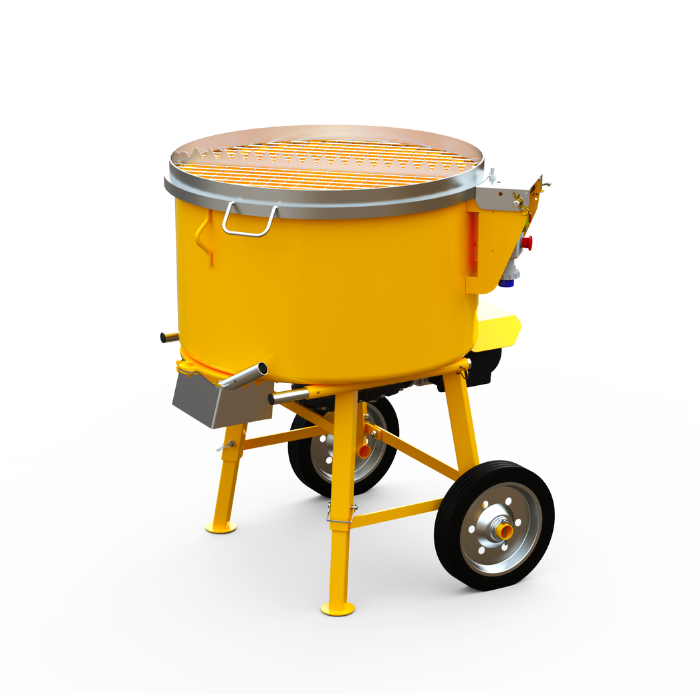 - Continuous mixer 100 lt - Twist 30: continuous mixer for concrete. Powerful and robust, it can mix cement screeds, various plasters, mortars.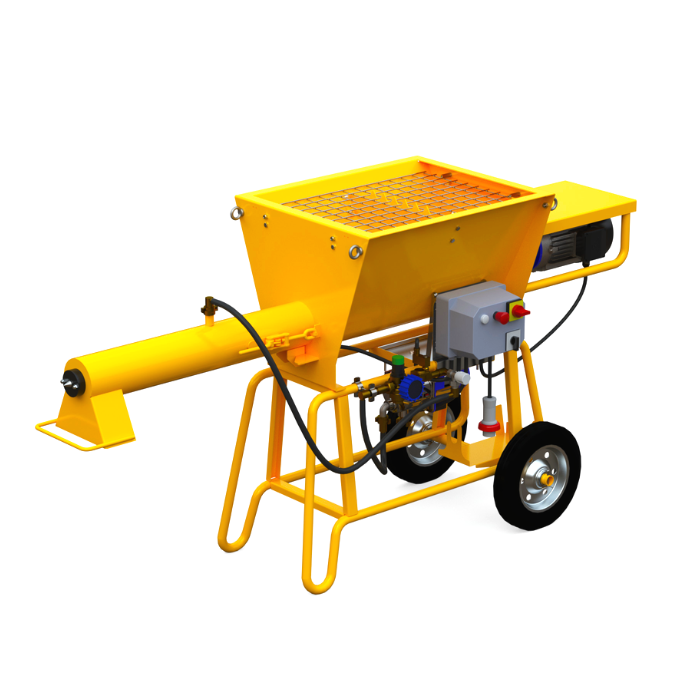 - Continuous mixer 60 lt - Twist 20: Smaller than Twist 30, but easy to handle and competitive, also in the price.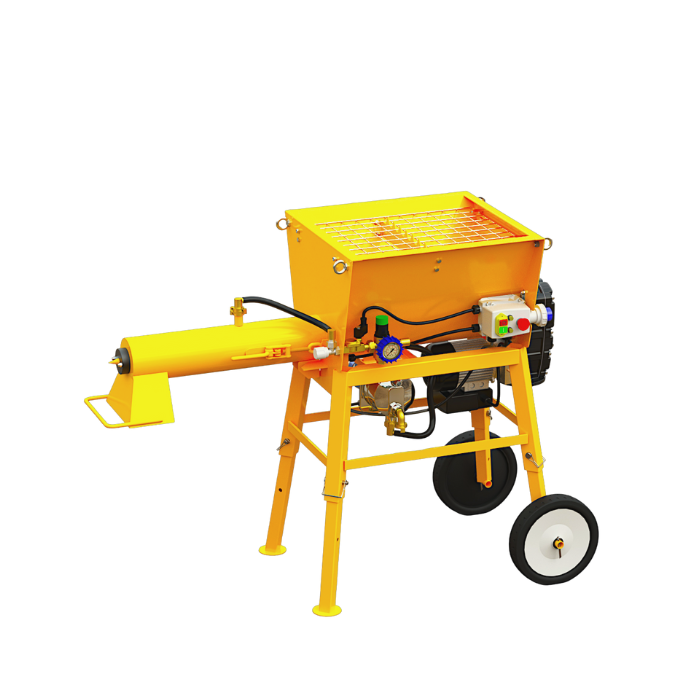 Omaer mortar mixers and concrete mixers sent in a carton box
We have already talked about our line of concrete mixers disassembled and sent in a carton box. You can read in our article about that. The machines of the Mixers Line are not exactly like that, that is, they are not completely disassembled, except for the C 60 mixer. In the case of the pan mixers (C 120, C 120 XT and C 240), the wheels and legs of the machine are removed, and custom-made carton box is used to pack the mixer in the best possible way. In the case of the continuous mixer Twist 30 and Twist 20, on the other hand, the assembly operation involves the insertion of the mixer shaft + mixing chamber, the assembly of the motor and the carter that covers the gearmotor of the machine (only for Twist 30). All operations are carried out with the hardware supplied in the box and without complexity.
The packaging of the in-box mortar mixers allows to have considerable advantages on logistics and transport costs, very similar to those for concrete mixers disassembled in a box. In fact, you save time to pack the machine and cost of transport, as well as the guarantee that the goods arrive at their destination in perfect condition. That are on request, but without additional costs.
Continue to follow us on our social channels (we are on Facebook, Instagram, Linkedin, Youtube) to discover news, projects and the "backstage" of our work. Otherwise, stay in touch with our #OmaerWorld in-depth section and come and discover our world!